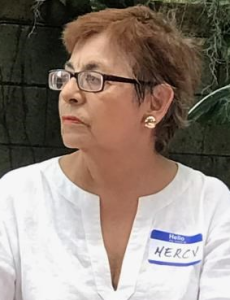 Mercedes "Mercy" James, Obituary 74, of Orlando, Florida, died on August 21, 2023. She was born on September 24, 1948, in Bogota, Colombia, to her late parents Clara Isabel Suarez and Jose Augustin Mancera. Mercy was a beloved mother, sister, friend, and leader who will be deeply missed by all who knew her.
From primary school through beginning studies at the Universidad de Bogota, Mercy's schooling was in Bogota. As a young woman with limited English proficiency, Mercy traveled to the US to study. She learned English and then earned Associate Degrees in Arts and Business Administration at Valencia College (1974), a Bachelor's Degree in Business Administration at the University of Central Florida (1976), and a Master of Science in Management at Rollins College (1977).
Mercy had a successful professional career that began in 1978 when she became the first Hispanic insurance sales agent for New York Life (NYL) in Central Florida. She continued to excel in her profession, serving as a dedicated agent for NYL and business advisor until her death.
In addition to her career, Mercy continuously used her giving heart, positive outlook, boundless energy, and unique ability to create and utilize resources for the greater good. In 1979, she organized the first Hispanic week celebration at Lake Eola and chaired the fiesta for the first two years. In 1980, Mercy was appointed to the Orlando Mayor's Advisory Council, where she made valuable contributions. She also founded the first local Hispanic women's business organization in 1982, belonged to Toastmasters, and served on the Annie Russell Theatre Guild at Rollins College.
Mercy's contributions to the Central Florida community were recognized and celebrated. In 2008, she was honored with Orlando's Women of Distinction Award in the Arts category, acknowledging her ongoing and extensive contributions. In 2019, Mercy was named the Orange County Citizen of the Year (District 3), further highlighting her dedication to serving others.
Mercy is survived by her loving daughters, Natalie Claire James of New York City and Annette Dorothy James of Winter Park, Florida, as well as her sisters Stella Mancera and Elsa Mancera, and her brothers Jorge Mancera and Carlos Mancera, all residing in Colombia.
In lieu of flowers, contributions may be made to Amigos Unidos (AU), a charity founded by Mercy in 2005. AU assists adults and children in need in Latin America and Central Florida, with current emphases on providing storage of water for families without running water in Guapi, Colombia, and the betterment of impoverished individuals in Central Florida. Your generous donations will help continue Mercy's mission of making a positive impact on the lives of others.
Mercy's memory will forever live in the hearts of those she touched. She leaves behind a legacy of compassion, strength, and dedication as she repeatedly demonstrated her willingness and ability to respond without hesitation to requests for assistance, whether from an individual with an emotional, financial, or medical need or for a community endeavor.
A Celebration of Life for Mercy will be held in her honor.
---
Viva Mercy! A Celebration of the Life of Lilia Mercedes James
When: Saturday, October 28, 2023, starting at 2 pm. Reception from 2-3:30, planned tributes and remembrances from 3:30-4:30 followed by additional time for connection of friends
Where: John E. Hudson Memorial Park across the street from Mercy's home at 87 Cypress Lane, Maitland, FL 32751
Additional information: parking will be limited and the use of Lyft/Uber or carpooling are encouraged. Transportation assistance will be provided for those with limited mobility. Rain date of Sunday, October 29, 2023 at 2 pm
Please RSVP by October 1 at mercycelebrationrsvp@gmail.com
In lieu of flowers or gifts, please donate to Amigos Unidos, the charity founded by Mercedes. Ways to donate:
By Zelle: donations@amigosunidos.org
By check: Please make checks payable to Amigos Unidos, PO Box 940717, Maitland FL 32794